The Greenway Network is a group of paths located in Bradley County for the purpose of providing safe and accessible options for casual and recreational walking. Each of the Network locations meet minimal qualifications, which include public access and parking and a solid designated walking surface of at least one-fifth mile in length which is free from vehicular traffic. Some of the areas also include picnic or recreational areas, distance markers and public restrooms.
Church of God Prayer Plaza – .29 mile (restroom)
Adjacent to the greenway on the Church of God campus, Keith and 25th Streets.
Fletcher Park – 2 miles (restroom)
Tennessee Nursery Road, half mile north off Harrison Pike
Lee University Schimmels Park – .49 mile (picnic area)
20th and Parker Streets on the Lee campus
Westwood Baptist Church – .40 mile (pavilion)
Entrance behind church on Villa Drive, quarter mile off Georgetown Road
YMCA Track – .57 mile
Corner of Stuart Road and Urbane Road
Ashley Smith Nature Center – .60 mile
Behind Cleveland Middle School campus, Georgetown Road
Denning Center – .20 mile
Central Ave., between Oak and Spring Streets
The following Bradley County Schools are members of the Greenway Network, with tracks open for use by the public:
Black Fox Elementary                                    .30 mile             FOX T.R.O.T
Hopewell Elementary                                    .20 mile             Tiger Trot
Lake Forest Middle School                           .25 mile             (upper track) .40 mile (lower track)
North Lee Elementary                                   .19 mile             Ram Run
Oak Grove Elementary                                  .33 mile             Freedom Trail
Park View Elementary                                   .20 mile             The Knight Walk
Prospect Elementary                                      .20 mile             Prospect Parkway
Taylor Elementary                                          .25 mile             "Tiger Track"
Valley View Elementary                                 .28 mile             The Magic Mile
Walker Valley High School                            .36 mile              Mustang Trail
Waterville Elementary                                    .25 mile             Cherokee Fitness Trail
Greenway Connectors
In addition to the Greenway Network there are connectors or "spurs," paths that connect directly or indirectly from the primary greenway:
20th Street Spur
A half-mile greenway connects at 20th Street near Lee University's Schimmels Park. It goes north behind Ocoee Middle School, crosses Fillauer Branch and connects with the Spring Creek townhomes. The connector continues under 25th Street and emerges at the future site of the Bradley County Veteran's Park. Future plans call for a connection to Elm Drive, behind the future site of Hardee's.
Downtown Greenway Connector
In April 2006, the Downtown Greenway Connector was introduced taking in many historic sites, and connecting with the Greenway at the portal at Willow and Keith Streets. The route can be entered anywhere along the approximate 4 mile route. The route is marked with Greenway logos.
Directions for the Downtown Greenway Connector
Proceed east (left) on the sidewalk from the Willow Street portal of the greenway, crossing Willow to Brown Avenue. Follow sidewalk to 8th Street and turn east (left). Take 8th Street to Harle Avenue, turning north (left). Take Harle to Centenary turning east (right). Proceed to Ocoee Street. Turn south (right) on Ocoee to downtown. Cross Broad Street at the corner of Inman and Broad, going east (left). One block to Ocoee Street, turning north (left). Proceed on Ocoee past the courthouse plaza to Central Ave. crossing Central. Cross Ocoee Street going east (right) on Central to Church Street. Cross Church to Parker Street. Turn north (left) on Parker toward Lee University. Cross Parker in front of the Humanities Center (right). Proceed north (left) on the east side of Parker to Schimmels Park. Enter Schimmels at the north entrance and emerge from Schimmels through the passage at the Leonard Center. Head south (left) on Parker to the corner of Parker and 15th. Turn west (right) on 15th to Ocoee Street. Turn south (left) on Ocoee headed back downtown to Central Ave. Turn west (right) on Central, crossing Ocoee and Broad Streets. Turn north (right) on Broad to 8th Street. Cross 8th and turn west (left). Stay on 8th until it dead ends on Brown. Turn north (right) on Brown to Willow and re-enter the Greenway at the Willow Street portal.
Ocoee Connector
A $496,000 TDOT grant awarded in 2013 allowed for construction of a greenway connector which beginning at the corner of North Ocoee Street and Ocoee Crossing, proceed north toward Keith Street behind Logan's, pass under Keith Street to Tinsley Park, snake around the ballfields and connect with the current greenway at the Mouse Creek pedestrian underpass.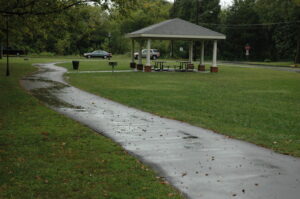 Pictured: Shimmels Park at Lee University is one of the 18 locations in the Greenway network.